Les Daltons
---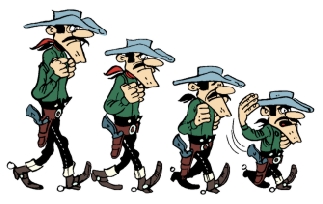 Joe Dalton
Jack Dalton
William Dalton
Avarell Dalton
Eyes:
Black
Hair:
Black
Race:
Human
Occupation:
Desperadoes
Legal status:
U.S. citizens with criminal records
Marital Status:
Single
Identity:
Publicly known
Known relatives:
Ma Dalton (mother)
Bob Dalton (cousin, deceased)
Grath Dalton (cousin, deceased)
Bill Dalton (cousin, deceased)
Emmet Dalton (cousin, deceased)



Story:
The Dalton brothers are the cousins of the famous Dalton brothers. They are Joe Dalton the youngest and toughest, Jack Dalton who is a little older and not quite as tough, William Dalton who is a little older and less tough than Jack, and Avarell Dalton the oldest who is the stupid one with an enormous appetite. The Dalton brothers spend a lot of time in jail but are otherwise trying to be desperadoes in the Wild West.
Continuity:
Lucky Luke
Publisher(s):
Dargaud
Lucky Comics
First app.:
Comics: Lucky Luke contre Joss Jamon (1957)
Cartoons: Daisy Town (1971)
Movies: Lucky Luke (1991)
Games: Lucky Luke: The Video Game (1996)
Creator(s):
Morris (Maurice De Bévère)
René Goscinny
Country of origin:
Belgium

Background notes:
The first time the Dalton Brothers appeared in
Lucky Luke
, in the story
Lucky Luke contre Joss Jamon
, they were only extras in the story and didn't look the way they do today. The basic idea with looking alike except for the size was there, but they didn't look like they do today. That was changed in the following story
Les Cousins Dalton
from 1958, where they became Lucky Luke's adversaries. The four brothers were now given the same looks as Morris had used on the real Dalton Brothers in the story
Hors la loi
from 1954. The famous Dalton Brothers had been killed by Lucky Luke, and their unknown and inept cousins wanted revenge. This became the first of many encounters, as both the visuals and the dynamics of the four brothers doing both rather intelligent and incredibly stupid things at the same time, made both intelligent and entertaining stories for people of all ages.
The Dalton Brothers appeared along with Lucky Luke in the first Lucky Luke cartoon,
Daisy Town
from 1971. The cartoon was partially an original story, which was later turned into an album in 1983, and partially a mixture of several side stories from the albums (voices by Pierre Trabaud, Jacques Jouanneau, Jacques Balutin and Pierre Tornade as Joe, Jack, William and Avarell respectively). In the following cartoons, including the latest cartoon from 2007, the four brothers have appeared on a regular basis and will presumably continue to do so.
When Lucky Luke was transferred to live action movies in 1991, the Dalton Brothers were there too in both movies. Joe was played by Ron Carey, Jack by Bo Greigh, William by Dominic Barto and Avarell by Fritz Sperberg. The third movie,
Les Dalton
from 2004, was a Dalton Brothers movie rather than a Lucky Luke movie. Here Joe was played by Eric Judor, Jack by Saïd Serrari, William by Romain Berger and Avarell by Ramzy Bedia.
Several Lucky Luke games have been released over the years, the earliest record of the Dalton Brothers appearing in games so far, is
Lucky Luke: The Video Game
from 1996. They have appeared in at least one more game,
Lucky Luke: Go West
for PC, Nintendo Wii and Nintendo DS from 2007, and most likely they have appeared in other games.
In terms of merchandise, only a few figurines and an activity book have been seen so far, but most likely other types of merchandise with the Dalton Brothers can be found.
Related links/characters: