Benoît Brisefer
---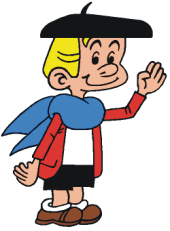 Eyes:
Black
Hair:
Blond
Race:
Human
Occupation:
School boy
Marital Status:
Single
Known relatives:
Tonton Placide (uncle)
Story:
Benoît Brisefer is a polite boy who tries to help everybody. He is often with his best friend Jules Dussiflard, helping him when he gets into trouble. Mostly his strength is a good thing and a big help in many situations, like helping Dussiflard (e.g. [1, 2]), but it also creates some problems when he accidentally ruins things.
Skills & abilities:
Benoit has super strength and speed, except when he catches a cold.
Continuity:
Benoît Brisefer
Publisher(s):
Dupuis
Le Lombard
First app.:
Spirou #1183 (1960)
Creator(s):
Peyo (Pierre Culliford)
Country of origin:
Belgium

Background notes:
Benoît Brisefer (Steven Strong in UK) was created by Peyo, who at the time had already become famous for his series
Johan et Pirlouit
and
Les Schtroumpfs
(the Smurfs). The series, like so many others, started in
Spirou
, with the first story
Les taxis rouge
in #1183 from 1960. He did the first two stories alone, but from the third story (
Les douze travaux de Benoît Brisefer
) he was assisted by Gos on the story and by the fifth story (
Le Cirque Bodoni
) François Waltéry took over as artist. After the seventh story,
Le fétiche
from 1978, the series took a long pause.
The next album was not published until 1993, a year after Peyo's death. By this time, the stories went from being published in
Spirou
and then collected in albums to being published directly as albums. The new artistic team was Pascal Garray (art and later also co-author) and Thierry Culliford (story). Garray and Culliford have made six albums so far. The last one,
John-John
is from 2004.
Related links/characters:
References:
1: Les Taxis Rouge
2: Les douze travaux de Benoît Brisefer