Dilat Larath
---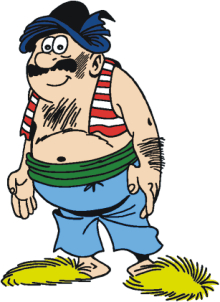 Eyes:
Black
Hair:
Black
Race:
Human
Occupation:
Servant for the Grand Vizier Iznogoud
Marital Status:
Single
Base of operations:
Baghdad
Story:
Dilat Larath is Iznogoud's faithful helper and servant, when he tries to become the Caliph instead of the Caliph.
Continuity:
Iznogoud
Publisher(s):
Dargaud
BD Star
Éditions de la Séguinière
Éditions Tabary

First app.:
Comics: Record #1 (1962)
Games: Iznogoud (1987)
Cartoons: Le jour des fous (1995)
Movies: Iznogoud: Calife A La Place Du Calife (2005)

Creator(s):
René Goscinny
Jean Tabary
Country of origin:
France

Background notes:
In the insane World of Iznogoud's attempt at becoming the new Caliph, Dilat Larath (Wa'at Alahf in English publications) is propably the only really sane person, and the one to put the absurd ideas into perspective (a little like Lt. Flap does with military logic in
Beetle Bailey
). Dilat Larath has been with Iznogoud from day one through all the media that the comic has been transferred to. In the cartoons the voice was possibly done by Arno Chevrier, who also played Dilat Larath in the movie, as Michaël Youn and Jacques Villeret did both the voices and played the characters of Iznogoud and the Caliph respectively.
Related links/characters: