Little Miss Whoops
---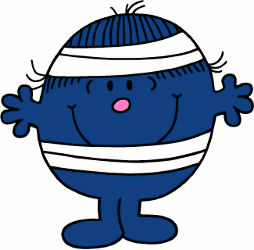 Eyes:
Black
Hair:
Black
Race:
Human
Marital Status:
Single
Known relatives:
Mr. Bump (brother)
Base of operations:
Happyland
Story:
Little Miss Whoops is always having accidents, big and small, no matter what she does.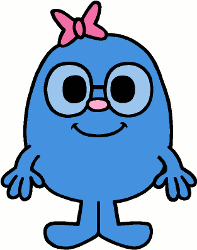 Continuity:
Mr. Men/Little Miss
First app.:
Books: Little Miss #33 (2003)
Creator(s):
Adam Hargreaves
Country of origin:
United Kingdom

Background notes:
Little Miss Whoops is one of the characters created by Adam Hargreaves. In the original version she was just a female version of her brother Mr. Bump; round, dark blue, and wrapped in bandages. When the latest Mr. Men show was created in 2007, the American producers redesigned the character, changing the bandages and hair with glasses and a pink bow. Also she was given a more slender shape and a lighter blue color.
Related links/characters: