George White
---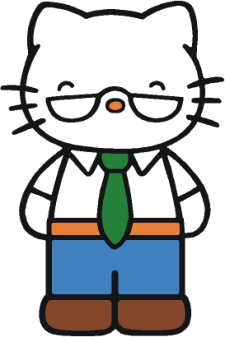 Date of birth:
June 3
Eyes:
Black
Hair:
White fur
Race:
Cat
Occupation:
Works for a trading company.
Marital Status:
Married
Known relatives:
Mary White (wife)
Mimmy White (daughter)
Kitty White (daughter)
Anthony White (father)
Margaret White (mother)
Base of operations:
London, U.K.
Story:
George White is the father of Kitty and Mimmy. He is funny and likes telling jokes to his family to make them laugh. George is very hardworking and dependable, but sometimes absent-minded too.
Continuity:
Hello Kitty
Publisher(s):
Sanrio Company
First app.:
1976
Creator(s):
Setsuko Yonekubo
Country of origin:
Japan

Related links/characters: