Momsemor
---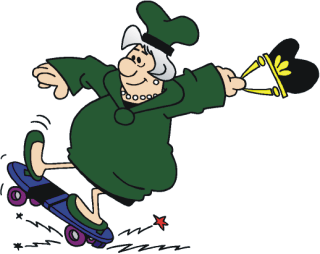 Eyes:
Black
Hair:
Gray
Race:
Human
Marital Status:
Widow
Known relatives:
Sofie (daughter)
Søren (son-in-law)
Lise (granddaughter)
Lars (grandson)



Story:
Momsemor is the slightly revolutionary and very playful granny living with and taking care of her family.
Continuity:
Granny and Slowpoke/Momsemor
Publisher(s):
P.I.B.
Field Newspaper Syndicate
First app.:
U.S. newspapers on June 12, 1976
Creator(s):
Werner Wejp-Olsen
Country of origin:
Denmark

Background notes:
Even though Momsemor/Granny and Slowpoke is a Danish series, the series started out in USA, and was originally created to be an American series. It was syndicated by Field Newspaper Syndicate and started in 25 American newspapers. The series did not work well with the American audience and after a few months it only ran in a few papers and was cancelled shortly after. Instead of fading into comic book limbo, the Danish newspaper
Ekstrabladet
started running the series instead in 1977. The series became a hit and is still shown daily. Today the series is shown in several magazines and papers both inside and outside Denmark.
Wejp-Olsen's idea for the series was to do something new with the American family series. According to himself, he was tired of hen-pecked husbands and dominating wives in the comics (e.g.
Bringing up Father
,
Polly and her Pals
and
Momma
) and wanted to do something unconventional. It could be argued, that series like
Hi and Lois
and
Blondie
had already made the series with "normal" couples a daily occurrence, but
Momsemor
did bring something new to comics. Having the lead character being a grandmother who was both a rebel, a bit of a revolutionary, and a playful child at heart and in actions was not common and still isn't.
Like
Hi and Lois
and
Blondie
, the setting is ordinary family life with mom, dad, kids, neighbors and jobs, and the jokes are also based on everyday life. What makes the humor a little different is having a geriatric being a strong spokesperson and fighting for the elderly, and the punch lines working by having an old woman behaving like a child.
Examples:



Related links/characters:
Cross cultural references:
If you enjoyed this character/series, you might enjoy