James A. Laidlaw
---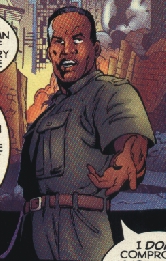 Eyes:
Brown
Hair:
Black
Race:
Human
Occupation:
Leader of Project: X-O
Legal status:
U.S. citizen
Group affiliation:
U.S. Army
Project: X-O



Story:
James Laidlaw was a friend of David Wylie. After David had a stroke, Laidlaw was asked to take care of his children, which he did [3].
When Project: X-O started around '94 it was a military operation with no approval for field use or civilian involvement. Having Donovan Wylie in the armor caused Laidlaw to lie to his superiors to make the project continue [2]. When Diana Hunter, an investigator from INQUEST, discovered that he had lied to his superiors she tried to blackmail him into cooperation in order to get some information on the X-O armor [1]. For a short while Laidlaw considered shooting himself or her but ended up going directly to the president and confess [2].
Laidlaw continued as head of Project: X-O and was still there when the X-O Manowar series ended [4].
Continuity:
Valiant VH-2
Publisher(s):
Acclaim Comics
First app.:
X-O Manowar (vol. 2) #1 (1997)
Creator(s):
Mark Waid
Brian Augustyn
Sean Chen
Country of origin:
USA

Related subjects:
References:
X-O Manowar (1996 series) #9
Acclaim, June 1997
X-O Manowar (1996 series) #11
Acclaim, August 1997
X-O Manowar (1996 series) #20
Acclaim, May 1998
X-O Manowar (1996 series) #21
Acclaim, June 1998