Renata Randall
---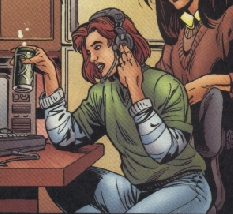 Eyes:
Brown
Hair:
Brown
Race:
Human
Occupation:
Programmer and co-owner of Brainstorm Technologies
Legal status:
US citizen
Marital Status:
Single
Story:
Renata was Donovan Wylies co-worker at their company Brainstorm Technologies which developed software. When Wylie got the X-O armor she became Donovan's back-up on his missions providing info [1]. Being Wylie's best friend, she also watched his back and helped him and Thalia when Tish tried to break them up [2].
It was later revealed that her feelings for Wylie were more than just friendly [3]. The matter was not resolved at the end of the series.
Continuity:
Valiant VH-2
Publisher(s):
Acclaim Comics
First app.:
X-O Manowar (vol. 2) #3 (1997)
Creator(s):
Mark Waid
Brian Augustyn
Sean Chen
Country of origin:
USA

Related subjects:
References:
X-O Manowar (1996 series) #3
Acclaim, December 1996
X-O Manowar (1996 series) #7
Acclaim, April 1997
X-O Manowar (1996 series) #17
Acclaim, February 1998