Miss Wormwood
---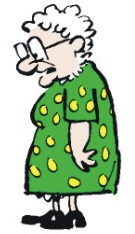 Eyes:
Black
Hair:
White
Race:
Human
Story:
Miss Wormwood is Calvin and Susie Derkin's teacher, a job that can be taxing at times, as she is also has to put up with Calvin's Spaceman Spiff adventures.
Continuity:
Calvin and Hobbes
Publisher(s):
Universal Press Syndicate
First app.:
Nov. 21, 1985
Creator(s):
Bill Watterson
Country of origin:
USA

Background notes:
According to Bill Watterson, Miss Wormwood is named after the apprentice devil in C.S. Lewis' "The Screwtape Letters."
Names around the World:
| | |
| --- | --- |
| Denmark | Frøken Mortensen |
| France | Madame Wormwood |
| Germany | Fräulein Wurmholz |
| Spain | Señorita Carcoma |
| Sweden | Lärarinnan |
| UK/USA | Miss Wormwood |
Examples (click to enlarge):


Related links/characters: