Mom
---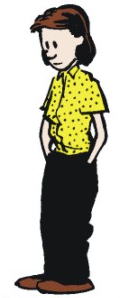 Eyes:
Black
Hair:
Brown
Race:
Human
Story:
Calvin's mom is the hard tried mother who has to keep the discipline and order in the house while dad is out working. Usually she is managing quite well, but some of the things Calvin does, really taxes her sanity.
Continuity:
Calvin and Hobbes
Publisher(s):
Universal Press Syndicate
First app.:
Nov. 26, 1985
Creator(s):
Bill Watterson
Country of origin:
USA

Background notes:
Unlike most popular characters Calvin's parents were never given a name. They were mom, dad, honey, sweetheart etc. but no real names.
Names around the World:
| | |
| --- | --- |
| Denmark | Mor |
| France | Maman |
| Germany | Mamma |
| Spain | Mamá |
| Sweden | Mamma |
| UK/USA | Mom |
Related links/characters: