Jacob Noir
---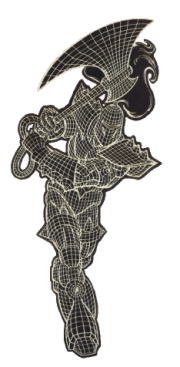 Alias:
Blackwhite
Eyes:
Green
Hair:
Brown
Race:
Human
Group affiliation:
Knights on Broadway
Story:
Jennifer Neil thought her daughter Tamara was tampering with dark forces and showed some of Tamara's drawings to Jacob, who worked with her husband at Stonycreek Labs in the Nuclear Fusion Department [1]. The drawings made sense to him, and when he later saw a job offer at Tomorrow Technologies with a logo he recognized from the drawings, he applied for the job. Tamara recognized Jacob from her visions and hired him on the spot [2].
Jacob and Tamara solved the problem in getting a power source for the post metal knight she had in mind, and later Jacob became one of the knights, known as Blackwhite [2].
Equipment:
Noir wears a force-field armor, which can form various weapons and shields for offensive and defensive purposes. Contrary to the other knights his armor is black and white instead of green and orange.
Continuity:
Broadway Comics
Publisher(s):
Broadway Comics
First app.:
Knights on Broadway (vol. 1) #1 (1996)
Creator(s):
Jim Shooter
Janet Jackson
Joseph A. James
Pauline Weiss
Geof Isherwood
Country of origin:
USA

Related links/characters:
References:
Knights on Broadway (vol. 1) #2
Broadway Comics
Knights on Broadway (vol. 1) #3
Broadway Comics