William
---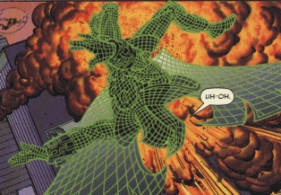 Alias:
Flapper. Knight of Flight
Date of birth:
1970
Eyes:
Grey
Hair:
Dirty blond
Height:
6' 2''
Weight:
180 lbs
Race:
Human
Group affiliation:
Knights on Broadway
Story:
Nothing has been revealed about Flapper except he was one of Tamara Bryn Neil's knights who helped saving the World [1-3].
Equipment:
Flapper wears a force-field armor, which can form various weapons and shields for offensive and defensive purposes. Contrary to the other knights, Flapper's armor also have flight capability.
Continuity:
Broadway Comics
Publisher(s):
Broadway Comics
First app.:
Knights on Broadway (vol. 1) #1 (1996)
Creator(s):
Jim Shooter
Janet Jackson
Joseph A. James
Pauline Weiss
Geof Isherwood
Country of origin:
USA

Related links/characters:
References:
Knights on Broadway (vol. 1) #1
Broadway Comics
Knights on Broadway (vol. 1) #2
Broadway Comics
Knights on Broadway (vol. 1) #3
Broadway Comics