Kero Padjyr
---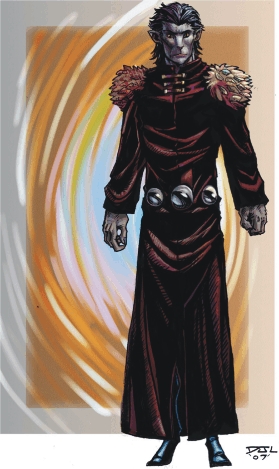 Place of birth:
H'trae
Eyes:
Black
Hair:
Black
Height:
6' 4''
Weight:
205 lbs.
Race:
Katawa (human/feline hybrid)
Occupation:
Catlord
Marital Status:
Married
Known relatives:
Leeyal (wife)
Base of operations:
Zanrtacus on the world H'trae
Story:
Kero Padjyr is the sole ruler of Zanrtacus, the Katawa city, and he rules the city with an iron fist. Like his predecessors, he was chosen for his strength, and he has been the ruler of the city for more than 50 years.
He can choose to take any Katawa woman as his wife and in doing so they are shown great honor and become "untouchable" among other Katawa. Many wives train for their future role from a very young age and are instructed to serve the ruling Catlord in one or more skills or fields of study. He often manipulates others to reach his goals and to extend the reach of the Katawa.
Continuity:
Earth's Sons
Publisher(s):
Dark Ocean Studios
First app.:
Earth's Sons #1 (2007)
Creator(s):
Jody Parker
Daniel Logan

Country of origin:
USA

Sample pages (click to enlarge):




Related links/characters:
Cross cultural references:
If you enjoyed this character/series, you might enjoy
Downloads:
Wall papers:
Avatars: