Brigitta
---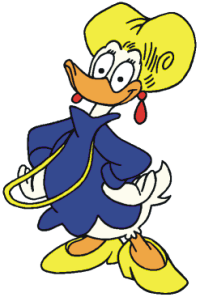 Eyes:
Black
Hair:
Blond
Race:
Duck
Occupation:
Businesswoman
Marital Status:
Single
Base of operations:
Duckburg
Story:
Brigitta is the businesswoman who tries to make a living, preferably married to Scrooge McDuck who she chases relentlessly.
Continuity:
Disney
Publisher(s):
Disney
Gladstone
Gemstone
First app.:
Topolino #243 (July 24, 1960)
Creator(s):
Romano Scarpa
Country of origin:
Italy

Background notes:
Brigitta (in USA and UK named Brigitta McBridge) is one of the supporting characters in the Disney universe that are popular in the European comics. Despite her popularity she's never really made it across the Atlantic. A few stories have been reprinted in USA, but that's it. The closest the character has come to being transferred to cartoons is
DuckTales
episode 62
'Til Nephews Do Us Part
from 1988 where the gold digger Millionaira Vanderbucks is based on Brigitta. She is still used in Italian stories though, so it may happen yet.
One single item of merchandise has been located, and that is a figurine. It is possible that other items exist.
Related links/characters: