Huey, Dewey, and Louie
---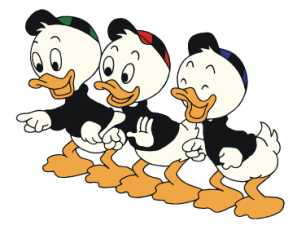 Date of birth:
1940
Place of birth:
Duckburg, Calisota
Eyes:
Black
Hair:
White feathers
Race:
Duck
Marital Status:
Single
Known relatives:
Della Thelma Duck (Dumbella) (mother)
Donald Duck (uncle)
Grandma Duck (grandmother)
Scrooge McDuck (great uncle)
Group affiliation:
Junior Woodchucks
Base of operations:
Duckburg
Story:
The brothers Huey, Dewey, and Louie ended up in the care of their uncle Donald after their father was injured in one of their pranks (a firecracker under his chair). The kids never left Donald.
Huey, Dewey, and Louie joined the scouts named The Junior Woodchucks where they attained the ranks of Brigadier generals.
Continuity:
Disney
Publisher(s):
Columbia Pictures
Disney
Dell Comics
Gold Key
Whitman Publishing
Gladstone
Gemstone
First app.:
Comics: Donald Duck newspaper Sunday (October 17, 1937)
Cartoons: Donald's Nephews (April 15, 1938)
Computer games: DuckTales: The Quest for Gold (1990)
Creator(s):
Ted Osborne
Al Taliaferro
Country of origin:
USA

Background notes:
According to Don Rosa, Huey, Dewey and Louie Duck were born in 1940 in Duckburg, Calisota. Having a fixed age in all chronological placements, i.e. it doesn't matter if the story takes place in the present time Duckburg or ancient Persia, they always have the same age, this should not be considered canon. The three brothers were named after Huey Pierce Long a politician from Louisiana, Thomas Edmund Dewey a politician from New York, and animator Louie Schmitt. The fourth brother was named Phooey by editor Bob Foster. Phooey is a mistake when the artist accidentally draws four identical brothers in one of the panels and the proofreaders do not notice the mistake.
When Huey, Dewey, and Louie first appeared in both comics and cartoon, they were mischievous little boys, and Donald was the grown-up. Later as the nephews became more popular and became an integrated part of the Donald Duck stories, they also became the adults or at least the most responsible in the family, especially with the introduction of the Junior Woodchucks.
Huey, Dewey, and Louie never got their own cartoons like Donald Duck, Mickey Mouse and Goofy when Disney made the original cartoons back in the 1930s, 40s and 50s, but like the comics they quickly became a part of the cast. When the Disney Channel started
DuckTales
in 1987 the three boys were of course part of the show from the beginning, and they stayed with the show until the end in 1990. Later in 1996 they got the series Quack Pack, which only ran for one season and lately they have appeared in the anthology series
Mickey Mouse Works
and the following
House of Mouse
. In the original cartoons the voices of Huey, Dewey and Louie were done by Clarence Nash who also gave Donald Duck his distinctive voice, and in
DuckTales
the voices was done by Russi Taylor, who also handled the three ducks in other cartoons at the time. In
QuackPack
where the three ducks should be distinguishable Huey was done by Jeannie Elias, Dewie by Pamela Seagal and Louie by E.G. Dailey. Returning the ducks to their original form also returned the voices to a one-man job. Tony Anselmo who did Donald Duck in
QuackPack
took over as the voices of Huey, Dewey, and Louie.
In the modern series like
DuckTales
the three nephews have started to get distinct characteristics. Huey wears red, Dewey blue and Louie green, and Huey is particularly brave and thoughtful and Louie is the most impulsive and reckless. In QuackPack it was also established that Huey was the unofficial leader, Dewey is a computer wizard and Louie likes sports. Before that, they were completely identical and the colors used to distinguish each character varied. This is also the reason why mistakes like Phooey happens from time to time. The series Quack Pack was quite different from the other appearances. The boys were suddenly teenagers and their real names were revealed to be Huebert, Deuteronomy, and Louis Duck. After the series was canceled this idea was dropped and stories from Quack Pack should probably no be considered canon in the Disney universe.
Like a lot of other Disney characters, Gold Key tried giving Huey, Dewey, and Louie a series of their own. The series started in 1966 and lasted 61 issues. Later in 1979 Whitman continued the series but it only lasted 19 issues, ending with #81. Besides this, a Back to School solo issues was published by Dell in 1958 and a 4 issue Junior Woodchucks limited series was published by Walt Disney Publications in 1991.
Huey, Dewey, and Louie have also made the transfer to computer games, but only as supporting characters. They appear in
DuckTales: The Quest for Gold
from 1990,
Donald Duck: Quackshot
from 1991 and
Donald Duck: Goin' Quackers
from 2000. "The Quest for Gold" was released for Amiga, DOS, Apple II and Commodore 64,
Quackshot
was released for Sega Genesis and
Goin' Quackers
was released for Nintendo GameCube and Playstation.
Like other famous Disney characters, Huey, Dewey, and Louie has made it into merchandising. Apart from the limits set by the Disney corporation (e.g. products related to diseases and adult toys) the three ducks can be found in almost any type of merchandising.
Related links/characters: