Gladstone Gander
---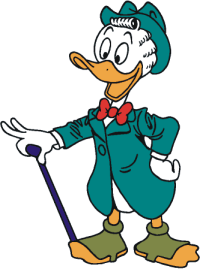 Eyes:
Black
Hair:
White to blonde
Race:
Duck/gander hybrid
Occupation:
Doing nothing
Marital Status:
Single
Known relatives:
Luke the Goose (original father, deceased)
Daphne Duck (original mother, deceased)
Goosetave Gander (original adoptive father, retconned to father)
Matilda McDuck (original adoptive mother, retconned to mother)
Humperdink Duck/Grandpa Duck (grandfather)
Elvira Coot/Grandma Duck (grandmother)
Donald Duck (cousin)
Daisy Duck (cousin)
Gus Goose (cousin)
Fred Duck (cousin)
Fethry Duck (cousin)
Scrooge McDuck (uncle)
Ludwig von Drake (uncle)
Rumpus McFowl (uncle)
Susiebelle Swan (great aunt)
Huey, Dewey & Louie Duck (nephews)
Shamrock Gander (nephew)
Cornelius Coot (great-great-grandfather)
Base of operations:
Duckburg
Story:
Gladstone is the luckiest duck in the World. He is also Donald's worst competitor for Daisy Duck's affection.
Equipment:
Various good luck charms
Continuity:
Disney
Publisher(s):
Disney
Dell Comics
Gold Key
Whitman Publishing
Gladstone
Gemstone
First app.:
Comics: Walt Disney Comic #88 (1948)
Cartoons: "DuckTales" in "Dime Enough for Luck" (Sept. 23, 1987)
Games: Donald Duck: Goin' Quackers (2000)

Creator(s):
Carl Barks
Country of origin:
USA

Background notes:
Gladstone is known as the luckiest duck in the World, and has been known for his incredible luck for a long time. When he started out in the story
Wintertime Wager
in 1948 however, he was just an ordinary duck. An ordinary annoying member of Donald Duck's family, and quite similar to Donald apart from the visuals. He was a gander, his beak was longer and slightly rounder and he had blond curly hair. His heritage was explained by Barks as being the son of Luke the Goose and Daphne Duck, which would explain the beak. Somewhere around the mid 1950s, Gladstone was changed into looking more or less like any other duck.
Gladstone's incredible luck was also added later, and not a part of the original idea. His luck started showing in
Race to the South Seas
in
Boys' and Girls' March of Comics
#41 from 1949, but it wasn't until
Luck of the North
from
One Shots
#256 the same year, that his lucky streak really took off.
With his competitive attitude, especially towards Donald, competing for Daisy Duck's affection was a given. The competition started with
Donald's Love Letters
from
Walt Disney's Comics and Stories
#111 (1949), and is still going on today. One would think that with Donald's temper and Gladstone's luck, Gladstone would be the winner of the contest every time, but in many cases, the prize that Gladstone has won, isn't Daisy, and when trying to cheat to ad something to his victory, the luck also has a tendency to backfire.
Yet another personality trait of Gladstone that was added is his laziness and lack of ambitions. In the first stories, this was not important, but in
Gladstone's Terrible Secret
in
Walt Disney's Comics and Stories
#140 (1951) it was revealed that he hated work and his greatest shame was the one day in his life he had worked.
Gladstone's heritage has also been subject to changes. In Carl Barks' original version of the family tree from the 1950s, Gladstone was the son of Luke the Goose and Daphne Duck who died by overeating at a free-lunch picnic. He was later adopted by Matilda McDuck and Goosetave Gander. The identity of his parents was supposedly retconned by Barks later but no story tells this retcon. Don Rosa's on the other hand did retcon Gladstones ancestry, when he made the McDuck family tree. Here Daphne Duck (Donald's paternal aunt) married Goosetave Gander and the two were Gladstone's parents.
Despite being a popular character in the comics, Gladstone has only made a few appearances outside the comic book medium. He appeared a few times (very briefly) in
DuckTales
and apparently also in
House of Mouse
(voice by Rob Paulsen) and he appeared in the game
Donald Duck: Goin' Quackers
from 2000 (for the platforms Nintendo 64, GameCube, PlayStation, PS2, Dreamcast, PC/Windows, and Game Boy Color). Merchandise appears to be pins mostly, but other items like figurines, postcards and plates have been seen.
Related links/characters: