Little Helper
---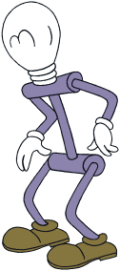 Alias:
Li'l Bulb
Eyes:
None
Hair:
None
Race:
Robot
Occupation:
Gyro Gearloose's helper
Base of operations:
Duckburg
Story:
Little Helper is Gyro Gearloose's faithful helper.
Continuity:
Disney
Publisher(s):
Disney
Dell Comics
Gold Key
Whitman Publishing
Gladstone
Egmont
First app.:
Comics: Uncle Scrooge #17 (1956)
Creator(s):
Carl Barks
Country of origin:
USA

Background notes:
Little helper was created by Carl Barks a few years after Gyro Gearloose. He has no language and his primary function in the stories is helping Gyro Gearloose. Besides helping Gyro, Little helper also provides some additional entertainment like when he ruined his light bulb trying to get an idea by hitting himself in the head with a hammer like Gyro. Little helper spent the rest of the story walking around supporting his weight with two walking canes because the new light bulb he was using was way too big for him. Having a pantomime story in the background is a classical technique in storytelling which had already been used many years before in series like
Bringing up Father
by George McManus and
De tre små mænd og Nummermanden
by Storm P. both from 1913.
When Gyro Gearloose was used in
DuckTales
in 1987, Little Helper was with him as always. In the cartoons he was, on occasions, given the name Li'l Bulb.
There are some slight variations in the way Little Helper looks. Some artists have changed his gloved hands into two sets of pinchers and others have given him a bigger and more complex body. The picture I have made for this site is the most common version of Little Helper.
Related links/characters: