Fethry Duck
---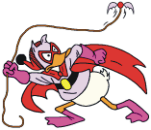 Alias:
Morcego Vermelho
Eyes:
Black
Hair:
Black
Race:
Duck
Occupation:
Reporter
Marital Status:
Single
Identity:
Secret
Known relatives:
Lulubelle Loon (mother)
Eider Duck (father)
Abner "Whitewater" Duck (brother)
Humberdink Duck (grandfather)
Elvira Coot (grandmother)
Donald Duck (cousin)
Della Duck (cousin)
Gladstone Gander (cousin)
Biquinho (nephew, Brazilian and Italian comics)

Base of operations:
Duckburg
Story:
Fethry Duck is the slightly confused and not too bright cousin of Donald Duck. Usually he is working as a reporter (quite successfully) along with Donald for Scrooge McDuck, but mostly he is annoying people by his peculiar way of seeing the World and doing things.
Continuity:
Disney
Publisher(s):
Disney
Dell Comics
Gold Key
Whitman Publishing
Gladstone
Gemstone
First app.:
Fethry Duck: Topolino #453 (Aug. 2, 1964)
Morcego Vermelho: Almanaque Disney #25 (1973)
Creator(s):
Dick Kinney
Al Hubbard
Country of origin:
USA

& Brazil

Background notes:
The story behind Fethry is a little messy. Originally he was created by the Disney studio by Dick Kinney (writer) and Al Hubbard (artist) for the European market. This makes him an American invention but his first appearance was in the Italian
Topolino
#453 from 1964. His first appearance in USA was not until 1966 in
Walt Disney's Comics and Stories
#304. To this day Fethry is not really accepted into the American stories, whereas he is a fairly popular character in Europe and Brazil.
In the Brazilian comics Fethry was given a secret identity named Morcego Vermelho (The Red Bat), created by Carlos Edgar Herrero (artist) and possibly Ivan Saidenberg (writer). Fethry's stint as Morcego Vermelho ran in
Almanaque Disney, Edição Extra
and a few other Disney series from 1973 thru 1990. The Morcego Vermelho stories remained a Brazilian phenomenon, but a few stories have made it to Europe, mostly Italy.
The Brazilian comics also provided Fethry with a nephew, Bequinho, and a girlfriend, Gloria, who is also his partner in crime fighting known as Borboleta Purpurea (Purple Butterfly).
Despite having been around for so long and having achieved the popularity that he has, the only reference to any transfer to other media to be found so far, are a few small figurines.
Related links/characters: