Battista
---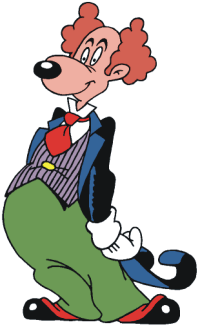 Eyes:
Black
Hair:
Auburn (sometimes other colors are used)
Race:
Dog
Occupation:
Butler for Scrooge McDuck
Base of operations:
Duckburg
Story:
Battista is the butler who takes care of the daily chores for Scrooge McDuck.
Continuity:
Disney
Publisher(s):
Disney
First app.:
Almanacco Topolino #125 (1967)
Creator(s):
Rodolfo Cimino
Massimo De Vita
Country of origin:
Italy

Background notes:
Battista is an Italian character created to be Scrooge McDuck's butler. He wasn't used much in the beginning but in the mid seventies he started to be a regular in the Italian series. Until now, Battista has only occurred in European comics.
Names around the World:
Brazil
Batista
Jarbas (sometimes)
Bulgaria
Батиста
Джон (old name)
China
巴蒂斯
Czech Republic
Baptist
Albert (sometimes)
Baltazar (sometimes)
Oučtář (sometimes)
Denmark
Albert
Finland
Juuso
Roope-sedän hovimestari (sometimes)
Jakaus (sometimes)
Jauhopää (sometimes)
Jooseppi (sometimes)
Juhana (sometimes)
Justus (sometimes)
Juuso (sometimes)
Pökelman (sometimes)
Virtanen (sometimes)
Jakaus (old name)
Jooseppi (old name)
Juhana (old name)
Justus (old name)
Pökelman (old name)
Virtanen (old name)
France
Baptiste
Edgard (old name)
Germany
Baptist
Greece
Παντάξιος
Ισίδωρος (sometimes)
Μπατίστα (sometimes)
Τζων (sometimes)
Ισίδωρος (old name)
Iceland
Jóhann Þjónn
India
Albert (old name)
Baptist (old name)
Italy
Battista
Lithuania
Batistas
Netherlands
Bertus
Albert (sometimes)
James (sometimes)
Van Stoetewolf (sometimes)
Van Stoetewolf (old name)
Norway
James
Kruse (old name)
Poland
Harpagon
Cezar (sometimes)
Protazy (sometimes)
Portugal
Batista
Joaquim (old name)
Spain
Bautista
Sweden
Albert
Alfred (sometimes)
Jean (sometimes)
UK/USA
Quackmore
Albert (old name, UK)
Related links/characters: