Eek
---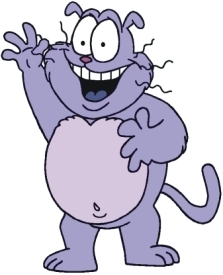 Eyes:
Black
Hair:
Purple fur
Race:
Cat
Story:
Eek is the house cat trying to help everyone under the motto "It never hurts to help!" In Eek's own case this is not entirely true.
Continuity:
Fox Kids
Publisher(s):
Fox Kids
Saban Entertainment
Disney
Hamilton Comics
First app.:
Cartoons: MiserEek (1992)
Comics: Eek! The Cat #1 (1994)
Creator(s):
Savage Steve Holland
Bill Kopp
Country of origin:
USA

Background notes:
Eek! The Cat
was a cartoon series that ran from 1992 to 1997 (87 episodes) on the
Fox Kids Saturday Morning
block. The first year, the show consisted of Eek cartoons only, but in the second season, the show was split up in
Eek! The Cat
and
The Terrible Thunderlizards
.
The Terrible Thunderlizards
were not always the second cartoon. Some were reruns of Eek, and in the final season (renamed
Eek!-Stravaganza
), a series named
Klutter
was added.
The series was a combination of slapstick, bizarre ideas and characters and outrageous humor. It also contained a lot of pop culture references and the titles were rewritings of popular movie titles (e.g.
A Sharkwork Orange
and
Eekpocalypse Now
), making the series appealing to both children and grown-ups. In the cartoons, Eek's voice was done by Bill Kopp.
After cancellation, the series was bought by Saban, who showed the cartoons as a part of a larger package for a few years. The series, along with some of the other Saban properties was bought by Disney in 2001, which apparently still has the rights and aren't using them for anything.
Eek was for a brief period also published as a comic. The series
Eek! The Cat
from Hamilton Comics lasted only three issues.
Related links/characters: