Johnny Braincloud
---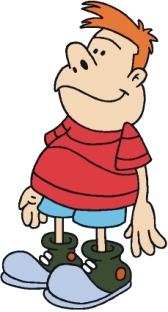 Alias:
J.B.
Eyes:
Black
Hair:
Orange/red
Race:
Human
Known relatives:
Mother, not named
Wendy Elizabeth (sister)



Story:
J.B. is the son in the house where Eek lives. He and his sister Wendy Elizabeth watch a lot of TV, some of which is their favorite cartoon
The Squishy Bearz
.
Continuity:
Fox Kids
Publisher(s):
Fox Kids
Saban Entertainment
Disney
Hamilton Comics
First app.:
Cartoons: MiserEek (1992)
Creator(s):
Savage Steve Holland
Bill Kopp
Country of origin:
USA

Background notes:
A big part of the stories in the cartoons revolve around Eek trying to help J.B. and his sister Wendy Elizabeth or try to keep them out of danger. J.B.'s real name has been revealed to be Johnny Braincloud, but he is never called anything other than J.B. In the cartoons, J.B.'s voice was done by Charles Adler.
Related links/characters: