Barend
---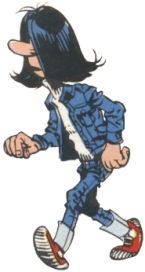 Eyes:
Black
Hair:
Black
Race:
Human
Occupation:
Office assistant at BVD, the Dutch secret service
Group affiliation:
BVD (Binnenlandse Veiligheids Dienst), the Dutch secret service
Story:
Barend is the office assistant at BVD. He has been on several missions both as Agent 327's assistant and on his own.
Continuity:
Agent 327
Publisher(s):
Oberon b.v.
First app.:
Dossier Leeuwenkuil (1970)
Creator(s):
Martin Lodewijk
Country of origin:
Netherlands

Background notes:
Any hero needs a sidekick or at least a supporting cast. Barend is both. He is a big fan of Agent 327 and will go on missions with him any time, but he has also shown to be able to work on his own.
Names around the World:
| | |
| --- | --- |
| Denmark | Bernhard |
| Netherlands | Barend |
Related links/characters: