Willemse
---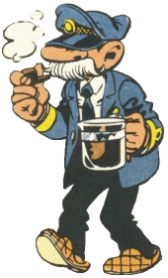 Eyes:
Black
Hair:
Gray
Race:
Human
Occupation:
Caretaker at BVD, the Dutch secret service
Group affiliation:
BVD (Binnenlandse Veiligheids Dienst), the Dutch secret service
Story:
Willemse is the caretaker at BVD who lets agents like Hendrik IJzerbroot into the office. He hasn't heard about all the entrances, making it dangerous for the agents to get in (Agent 327 once nearly drowned when he entered the office thru the bathtub [1]).
Continuity:
Agent 327
Publisher(s):
Oberon b.v.
First app.:
Dossier Leeuwenkuil (1970)
Creator(s):
Martin Lodewijk
Country of origin:
Netherlands

Names around the World:
| | |
| --- | --- |
| Denmark | Willemse |
| Netherlands | Willemse |
Related links/characters:
References:
1: Dossier de ogen van Wu Manchu