Mata Hair
---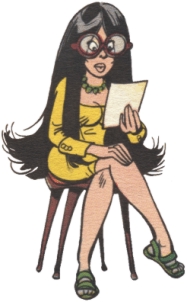 Eyes:
Blue
Hair:
Black
Race:
Human
Occupation:
CIA operative
Group affiliation:
CIA
Story:
Mata Hair is a CIA agent who has been working on some of the same cases as Agent 327. Nothing has been revealed about Mata Hair but she appears to be quite competent.
Continuity:
Agent 327
Publisher(s):
Oberon b.v.
First app.:
Waar Twee Ruilen (1972)
Creator(s):
Martin Lodewijk
Country of origin:
Netherlands

Background notes:
Being a secret agent, Agent 327 also needs to meet other agents. Mata Hair is usually a competitor to Hendrik IJzerbroot on the missions where they bump into each other. Despite her name being close to the famous spy Mata Hari, sex is not used or even indicated in the series.
Names around the World:
| | |
| --- | --- |
| Denmark | Mata Hair |
| Netherlands | Mata Hair |
Related links/characters: