Olga Lawina
---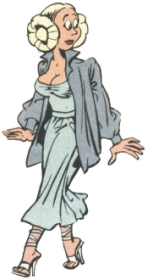 Date of birth:
February 29
Eyes:
Blue
Hair:
Blonde
Race:
Human
Occupation:
Secret agent
Legal status:
Swiss citizen
Known relatives:
Eric von Montag (half-brother)
Anatole Mardi (half-brother)
William Wednesday (half-brother)
Igor Tjetverg (half-brother)
Harry Friday (half-brother)
Pietro Domenica (half-brother)
Abraham Zondag (half-brother)
Group affiliation:
Swiss secret service
BVD (Binnenlandse Veiligheids Dienst), the Dutch secret service



Story:
Olga's mother moved around in the World never settling down. On her journey she met some men with whom she became pregnant. The children were named after the days in the week, but with number 8, Olga, she ran out of days.
Olga was a member of the Swiss secret service but she started to work for BVD, or at least she did most of the time. Agent 327 has found himself at the wrong end of a gun Olga was holding on several occasions. The first time was when they were on a mission in Kwaïti where they met the dictator Doctor Papa and Olga's half-brothers [1].
Despite being unreliable, Olga has continued working with Agent 327 and BVD. Exactly who Olga works for has not been revealed but Wu Manchu thought she worked for the organization Drie-Van-De-Acht [2].
Skills & abilities:
Olga is a skilled marksman and fighter.
Names around the World:
| | |
| --- | --- |
| Denmark | Olga Lawina |
| Netherlands | Olga Lawina |
Continuity:
Agent 327
Publisher(s):
Oberon b.v.
First app.:
Dossier Zondagskind (1977)
Creator(s):
Martin Lodewijk
Country of origin:
Netherlands

Related links/characters:
References:
1: Dossier Zondagskind
2: Dossier de gesel van Rotterdam