Mr. Sneeze
---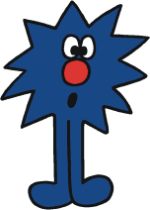 Eyes:
Black
Hair:
None
Other distinguishing features:
No arms.
Race:
Human
Marital Status:
Single
Base of operations:
Shivertown, Coldland
Story:
Mr. Sneeze came from a place where everybody sneezed. One day he decided to go out in the World to find a cure. He found a wizard who turned Shivertown into a wonderful sunny town.
Continuity:
Mr. Men/Little Miss
First app.:
Books: Mr. Men #5
Cartoons: Mr. Men Episode #13 (January 13, 1974)

Creator(s):
Roger Hargreaves
Country of origin:
United Kingdom

Related links/characters: