Mr. Bounce
---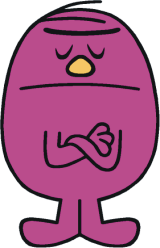 Eyes:
Black
Hair:
Black
Race:
Human
Marital Status:
Single
Base of operations:
Dillydale
Story:
Mr. Stubborn is always right. No two ways about that. Even when he is wrong he is right and will not change his mind.
Continuity:
Mr. Men/Little Miss
First app.:
Cartoons: The Mr. Men Show Episode 1: Boo-Boos (February 4, 2008 )
Creator(s):
Kate Boutilier
Eryk Casemiro
Erik Knutson

Country of origin:
USA

Background notes:
When the Mr. Men were turned into a new series of cartoons in 2008, some of the characters were redesigned, and a few new characters were added. Mr. Stubborn was one of the new ones.
Related links/characters: