General Sod
---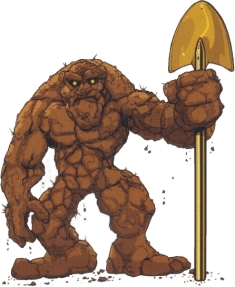 Eyes:
Yellow, no visible irises
Hair:
None
Race:
Animated dirt
Story:
Time, pressure, and a grossly mishandled batch of radioactive fertilizer byproduct, also known as phosphogypsum sludge created Sod. As General Sod, he led the infamous campaign, the OH- fensive offensive, but was laid down by the Legendary Capt. Buck Nekid (The very campaign that led to the great hero's untimely retirement).
Hardened by failure, this crusty creation's anger has been forged into rock solid hatred for all wannabe warriors. Especially that bumbling branch more commonly referred to as Stykman.
Continuity:
a.k.a. Comics Continuity
Publisher(s):
a.k.a. Comics
First app.:
The Miscellaneous Adventures of Stykman #3 (2007)
Creator(s):
Jonnie Allan
Country of origin:
USA

Related links/characters: