Stykman
---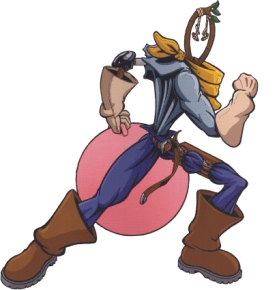 Eyes:
Two pieces of wood
Hair:
None, three leaves
Race:
Stickman
Occupation:
Hero
Marital Status:
Single
Story:
When the hero Buck Nekid stopped his career, he left a big void that had to be filled. Stykman saw this as his calling in life, and started out as the new hero in town.
Equipment:
Stykman uses a uranium enriched R-34 spinjibber (a Hippity-Hop Ball of uranium enriched rubber), a 3 in 1 official Red Ryder carbine-action 150-shot range model pistol with wafer, swash, and effervescent modes respectively. For transportation he has the suped-up big wheel bike called the HAWG (Hydrogen-enhanced, All Wheel Go-bike).
Continuity:
a.k.a. Comics Continuity
Publisher(s):
a.k.a. Comics
First app.:
The Miscellaneous Adventures of Stykman #1 (2005)
Creator(s):
Jonnie Allan
Country of origin:
USA

Background notes:
Stykman is a hero of the type that is rarely seen. In the vein of the Tick and Captain Klutz, he is totally inept as a hero and only survives by luck and the ability to withstand severe amounts of violence.
The character Stykman was revealed to the World in 2002, but only as a preview poster at the San Diego Comic Con. The actual comic was not published until 2005. At the time, it was only sold at cons where it created a fan base and sufficient attention to be noticed by Diamond Comics Distributors.
The series only lasted three issues, after which it went on hiatus. An attempt at reviving the series by crowd funding in 2018 apparently apparently failed, and no new plans have been revealed at the time of writing.
Related links/characters:
Cross cultural references:
If you enjoyed this character/series, you might also enjoy