Dionysos
---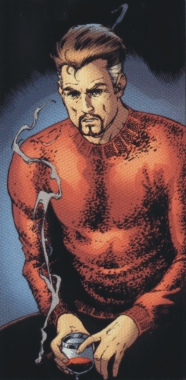 Alias:
Dion
Eyes:
Brown
Hair:
Reddish brown
Race:
Greek god
Occupation:
Nightclub owner
Story:
Dion is the old greek god Dionysos who is currently living among the mortals. In the present day he runs the nightclub Dion's in New York [1].
Skills & abilities:
Dionysos must be assumed to have some devine power, but no powers have been revealed.
Continuity:
Avalon Studio's part of the Image Universe.
Publisher(s):
Image Comics
First app.:
Aria Preview (vol. 1) #1 (1998)
Creator(s):
Brian Holguin
Brian Haberlin
Country of origin:
USA

Background notes:
Like other characters in the Aria series, this character suffers greatly from having different artists each with his own design. There is no consistency in the character's design and the character can almost only be identified by name.
References:
Aria (1999 series) #1
Image Comics, January 1999
Related links: