Childe Roland
---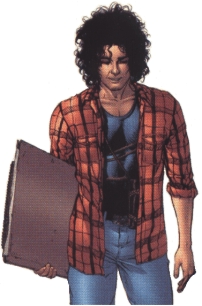 Eyes:
Blue
Hair:
Black
Race:
Half-elf
Occupation:
Poet
Marital Status:
Single
Base of operations:
New York City
Story:
Childe Roland is a street poet who spends his time writing curious verses and painting strange glyphs everywhere. If read properly; his writings can transport mortals to unearthly realms [1].
Skills & abilities:
Changeling and caster of magic.
Continuity:
Avalon Studio's part of the Image Universe.
Publisher(s):
Image Comics
First app.:
Aria (vol. 1) #2 (1999)
Creator(s):
Brian Holguin
Brian Haberlin
Country of origin:
USA

Background notes:
Like other characters in the Aria series, this character suffers greatly from having different artists each with his own design. There is no consistency in the character's design and the character can almost only be identified by name.
References:
Aria Preview (1998 series) #1
Image Comics, November 1998
Related links: