The Sphinx
---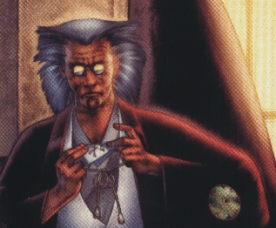 Real name:
Unknown
Hair:
Gray
Race:
Presumed to be fairie
Story:
The Sphinx is an enigma. Nothing is known about him other than he is obsessed with puzzles, riddles, conundrums, poses etc. Apparently he sometimes helps Kildare in return for new riddles [1].
Skills & abilities:
Even though no powers have been revealed, it must be assumed that with his knowledge on magical items he also possesses magical powers.
Continuity:
Avalon Studio's part of the Image Universe.
Publisher(s):
Image Comics
First app.:
Aria (vol. 1) #2 (1999)
Creator(s):
Brian Holguin
Brian Haberlin

Country of origin:
USA

References:
Aria Preview (1998 series) #1
Image Comics, November 1998
Related links: