Gwynnion
---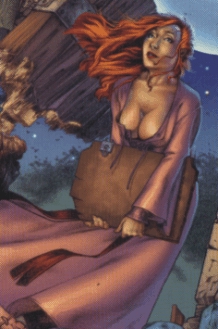 Alias:
Mad Ginny
Place of birth:
Faerie
Eyes:
Green
Hair:
Red
Race:
Fairie
Known relatives:
Kildare (cousin)
Christabell (aunt)



Story:
Gwynnion grew up in Fairie with her cousin Kildare. It was a carefree life of adventures into the human's world, until one day in the 1930's when she met a lycanthrope that attacked her. The attack left her broken and battered in both body and soul. She did not recover mentally and became known as Mad Ginny [1].
The attack left her pregnant, and she gave birth to a son who was used as a vessel for an ancient evil known as the Dark One. Along with her cousin Kildare and the magician Magnus Magus, Gwynnion stopped the Dark One 70 years later. Stopping the Dark One did not heal her broken spirit, but it did give her some peace of mind [2].
Skills & abilities:
No powers have been revealed but it must be assumed that she can do some magic due to her race.
Continuity:
Avalon Studio's part of the Image Universe.
Publisher(s):
Image Comics
First app.:
Aria Preview (vol. 1) #1 (1998)
Creator(s):
Brian Holguin
Brian Haberlin
Country of origin:
USA

References:
Aria (1999 series) #2
Image Comics, April 1999
Aria (1999 series) #4
Image Comics, November 1999
Related links: