Robin Goodfellow
---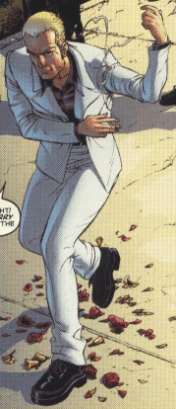 Alias:
Puck
Eyes:
Blue
Hair:
Blond
Race:
Presumed to be fairie
Story:
Robin Goodfellow it the erstwhile "Puck" of Shakespeare's "A Midsummer's Night Dream" [1]. In the present day he has tried to make a living trading souls. One of the bodies from the souls he had obtained (not quite legally) started searching for her soul, and after a trial he was given the ability to see the souls of all the dead, essentially making him mad [2].
Continuity:
Avalon Studio's part of the Image Universe.
Publisher(s):
Image Comics
First app.:
Aria: The Soul Marked (vol. 1) #1 (2001)
Creator(s):
Brian Holguin
Brian Haberlin
Country of origin:
USA

References:
Aria Preview (1998 series) #1
Image Comics, November 1998
Aria: The Soul Marked (2001 series) #6
Image Comics, December 2001
Related links: