Chip and Dale
---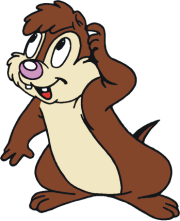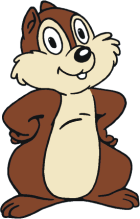 Eyes:
Black
Hair:
Brown fur
Race:
Chipmunks
Occupation:
Rescue Rangers
Known relatives:
Grandpa Chipmunk
Zip and Zap (nephews)



Story:
Chip and Dale is a couple of chipmunks living in the forest, where they collect nuts for the winter and enjoy life. For a while, they worked as private investigators, helping the less fortunate.
Continuity:
Disney
Publisher(s):
Disney
Dell Comics
Gold Key
Whitman Publishing
Gladstone
Gemstone
First app.:
Cartoons: Private Pluto (April 2, 1943)
Comics: Walt Disney's Comics and Stories #25 (October 1942)
Games: Disney's Chip 'n Dale Rescue Rangers (1990)
Creator(s):
Walt Disney
Clyde Geronimi
John Lounsbery
Country of origin:
USA

Background notes:
Chip and Dale started out as two identical and unnamed chipmunks in the story
Private Pluto
, where a couple of chipmunks were using a pillbox for storing nuts and, one of the cannons for cracking the nuts, both of which Pluto was guarding. The cartoon
Private Pluto
from 1943 is usually considered the first appearance of Chip and Dale, and they were created for the cartoon so to some extent it is true, but Disney published an illustrated short story version of the cartoon to come in
Walt Disney's Comics and Stories
#25 from October 1942, which must be considered the real first appearance. No credit for the creation of Chip and Dale is available, but Walt Disney is credited as the producer, Clyde Geromini as the director and John Lounsbery as the animator and the three must be assumed to be the major contributors in the creation.
It wasn't until the third appearance,
Chip an' Dale
from 1947, that the two chipmunks got their names. The names Chip and Dale were allegedly a pun on the name Chippendale, referring to the furniture designer Thomas Chippendale. It was also at this point they started showing differences in personality. Chip was the logical schemer and Dale the dumb schemer. The difference in looks with Chip looking as he used to and Dale getting the pink nose, gapped front teeth and an extra tuft of hair came in the cartoon
Three for Breakfast
from 1948.
From 1943 to 1956, Chip and Dale appeared in 23 cartoons, of which
Chip an' Dale
(1947) and
Toy Tinkers
(1949) were nominated for an Oscar
®
. After the last cartoon in 1956, the chipmunks weren't seen in cartoons again until Disney released a couple of specials in 1986, and the series
Chip 'n Dale Rescue Rangers
started in 1989. In
Rescue Rangers
, Chip and Dale formed a detective agency and helped the less fortunate. In the series, Chip was dressed like Indiana Jones and played the strong leader. Dale was dressed in a Hawaiian shirt like Thomas Magnum from
Magnum P.I.
and was the laid back irresponsible prankster. The series lasted 3 seasons and a total of 65 episodes. After the
Rescue Rangers
, Chip and Dale started appearing on the anthology series
Mickey Mouse Works
(1999-200),
House of Mouse
(2001-2003), and the current
Mickey Mouse Clubhouse
(2006-).
In the first appearances, the voices of Chip and Dale were done by Dessie Flynn and James MacDonald. In the modern appearances, the voices were done by Tress MacNeille and Corey Burton as Chip and Dale respectively in
Rescue Rangers
, and Tress MacNeille did both voices on the following series.
The first comic book appearance,
Private Pluto
in
Walt Disney's Comics and Stories
#25 from 1942, was a 4 page short story with illustrations, retelling the cartoon that would be released 6 months later. Their next appearance was more like a comic in the sense of sequential artwork. This was in
Walt Disney's Comics and Stories
#69 from 1946. Here the second cartoon with the two chipmunks,
Squatter's Right
(also from 1946), was made into 2 pages of stories with voice over text. It wasn't until the eighth appearance (
Vacation Parade
#1 from 1950) that Chip and Dale went from illustrated short stories and retelling of cartoons to sequential art with voice bubbles as we know them today.
In the following years, Chip and Dale continued to appear in various Disney publications, including three issues of
Four Color Comics
dedicated to Chip and Dale (issues 517, 581, and 636), that would be considered the first three issues of the series
Chip 'n' Dale
that started with #4 in 1955. The series folded after 30 issues in 1962. A second
Chip 'n' Dale
series from Gold Key started in 1967. The series lasted 64 issues before it was taken over by Whitman in 1980. Whitman Publishing continued with #65 and the series lasted until #83 from 1984. A third series,
Chip 'n Dale Rescue Rangers
, from Disney was published from 1990 to 1991, lasting 19 issues.
In the wake of the
Rescue Rangers
cartoons, came a few computer games. The first was
Chip 'n Dale Rescue Rangers
from 1990 (NES platform) and for PC/DOS the same year came
Chip 'n Dale Rescue Rangers: The Adventure in Nimnul's Castle
. A few games have been released after this.
Merchandise with the two chipmunks is abundant, with pins and stuffed toys as the two major types.
Related links/characters: