Pluto
---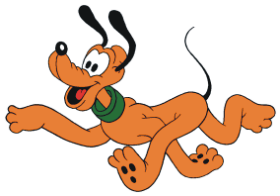 Eyes:
Black
Hair:
Champagne to orange fur.
Race:
Dog
Occupation:
Former bloodhound, now Mickey Mouse's pet
Known relatives:
Butch (brother)
Base of operations:
Duckburg
Story:
Pluto is Mickey Mouse's dog, but being the lovable dog he is, he shares adventures with everybody in Duckburg.
Continuity:
Disney
Publisher(s):
Columbia Pictures
Disney
Dell Comics
Gold Key
Whitman Publishing
Gladstone
Gemstone
First app.:
Cartoons: The Chain Gang (August 8, 1930)
Comics: Pluto the Pup in the Mickey Mouse Daily strip (July 1, 1931)
Creator(s):
Walt Disney
Burt Gillett
Norm Ferguson
David Hand
Country of origin:
USA

Background notes:
In the beginning of his career Mickey Mouse wasn't the straight arrow we know today. In the cartoons he would on occation do things that would be inconceivable that he would do today, like being mean to others. In the cartoon
The Chain Gang
from 1930 he was in prison. The cartoon was a prison comedy in the vein of Laurel and Hardy's
The Second Hundred Years
where Mickey was a prisoner on the run, Pegleg Pete was the jailer and Pluto was one of the dogs chasing him. Pluto was not named in the cartoon. The name would not be given until later.
Pluto made his second appearance in
The Picnic
from November 1930. Here he is Minnie Mouse's dog, and he is called Rover. The name Pluto did not come until
The Moose Hunt
from 1931. Today it is taken for granted that Pluto is Mickey's dog, but in the beginning he was just a character which was used whenever a dog was needed like the Donald Duck cartoon
Put-Put Troubles
from 1940. The establishment of ownership came gradually.
Pluto has only been given a voice a few times. In
The Moose Hunt
he said a few words and in
Mickey's Kangaroo
from 1935 his thoughts were given voice. The voice was done by Pinto Colvig who also gave Goofy his distinctive laugh.
Over the years, Pluto has starred in a number of cartoons, both solo and with other Disney characters, and he is still used extensively today. The height of his career was an Academy Award
®
for
Lend a Paw
from 1941, which was a remake of
Mickey's Pal Pluto
from 1933.
In comics, Pluto occured with the rest of the Disney cast from 1931. Like cartoons he also had some solo adventures in comics. In the late 1930s he had his own Sunday newspaper strip and he had a few issues of the showcase series
Large Feature Comic
(vol. II) and
Four Color Comics
.
Like other popular Disney characters, Pluto has been transformed into any merchandise one can imagine, and like other popular character with a long history, the merchandise can be traced a long way back. In Pluto's case back to the mid 1930s.
Related links/characters: