Minnie Mouse
---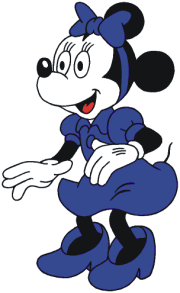 Eyes:
Black
Hair:
Black
Race:
Mouse
Marital Status:
Single
Known relatives:
Mortimer Mouse (uncle)
Marissa (aunt)
Millicent (aunt)
Matilda (aunt)
Minerva (aunt)
Manfred (nephew)
Millie (niece)
Melody (niece)
Molly (niece)
Base of operations:
Duckburg
Story:
Minnie is the friend and girlfriend of Mickey Mouse.
Continuity:
Disney
Publisher(s):
Columbia Pictures
Disney
Dell Comics
Gold Key
Whitman Publishing
Gladstone
Gemstone
First app.:
Cartoon: Plane Crazy (1928)
Comics: Mickey Mouse daily strip (January 13, 1930)
Creator(s):
Walt Disney
Ub Iwerks
Country of origin:
USA

Background notes:
Minnie has been Mickey's girlfriend from day one. She appeared with Mickey in
Steamboat Willie
and
Plane Crazy
both from 1928, and has stayed his lifelong parner since then. Walt Disney who did Mickey's voice also did her voice in
Steamboat Willie
, but her voice was usually done by Marcellite Garner (until 1940) and her successors Thelma Boardman (1940 - 1942), Ruth Clifford (1942 - 1952), and Russi Taylor (1986 -). In the cartoons, she only got to be a star in her own cartoon once. It was the one-shot named
Disney's Totally Minnie
from 1988.
As Mickey was transferred to comics, so was Minnie. She first appeared in the
Mickey Mouse
daily strip in 1930 and has been by his side ever since. For some reason she never got her own comic, despite her being a big star, just like she never really got her own cartoons. She did have her own solo stories though, and just like Mickey got Pluto and two nephews, Minnie was also given a number of relatives and pets. Of these, the niece Melody was the only recurring family member. Interestingly enough, one of her recurring pets was Figaro from the cartoon
Pinocchio
, which was one of the cartoon-to-comics transfers Disney made for some of the out-of-continuity characters like Madam Mim from
The Sword in the Stone
who moved to Duckburg and Gus and Jaq from
Cinderella
who went to live with Grandma Duck. The closest thing to having her own series was the
Minnie Mysteries
which was a part of the children's books series
Golden Books
(age 4-8) from Random House, and that was only a few books published between 1997 and 2003. The series still exists, so there may be published more books with Minnie in that series.
As one of the major Disney icons, Minnie has followed Mickey as he has been transferred to other media. This includes the infamous comic
Air Pirates Funnies
from 1971 where Minnie was one of the characters shown with Mickey in mature situations. Besides the ordinary merchandise as a famous Disney character, she got her own line of merchandise named
Minnie 'n Me
in 1990, which were pre-teen versions Minnie and other Disney characters. From the looks of the available information, the line only existed a year or two.
Related links/characters: