Mickey Mouse
---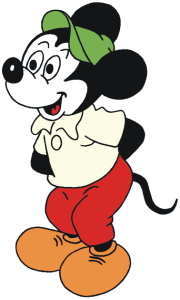 Eyes:
Black
Hair:
Black
Race:
Mouse
Occupation:
Adventurer and part time detective, part time reporter.
Marital Status:
Single
Known relatives:
Amelia Fieldmouse (sister)
Morty Fieldmouse (nephew)
Ferdie Fieldmouse (nephew)
Base of operations:
Duckburg
Story:
Mickey Mouse is the polite mouse who hangs out with his friends and occasionally solves crimes with Goofy, Chief O'Hara and Shamrock Bones. Mickey is also the proud owner of Pluto.
Continuity:
Disney
Publisher(s):
Columbia Pictures
Disney
Dell Comics
Gold Key
Whitman Publishing
Gladstone
Gemstone
First app.:
Cartoons: Plane Crazy (1928)
Comics: January 13, 1930
Creator(s):
Walt Disney
Ub Iwerks
Country of origin:
USA

Background notes:
The exact origin of the character Mickey Mouse is lost, but the general consensus is that he was created by Walt Disney and Ub Iwerks as a replacement for the character Oswald the Lucky Rabbit, to which Disney had just lost the rights. The first cartoon
Plane Crazy
from 1928 was produced by Walt Disney with Ub Iwerks, Hugh Harman, and Rudolf Ising doing the animations. Even though it was the first movie to be produced, it was not the first to be released. Before its release, at which time other Mickey Mouse movies had already been produced, Disney saw Warner Bros.
The Jazz Singer
and its matched, synchronized soundtrack. He decided to rework all three movies and
Steam Boat Willie
was the first to be finished.
Steam Boat Willie
was released at the Colony Theater in New York on November 18, 1928, the date is now used for the birth of Mickey Mouse.
The first cartoons were in black and white. Colors in photographies had been commercially available since 1906, but it wasn't used in movies until 1932. Mickey appeared in color in 1935 in the cartoon
The Band Concert
. Walt Disney was the first to do Mickey's voice. Later, in 1947, those duties were assumed by Jim Macdonald and today Wayne Allwine provides Mickey's distinctive voice.
The original cartoons ended in 1953, but occasionally cartoons have been made over the years. The latest cartoon is
The Three Musketeers
a direct to video movie released August 17, 2004, reuniting the team of Donald Duck, Mickey Mouse and Goofy. The formation of the Disney Channel in 1983 led to Mickey Mouse getting an anthology series
Mickey Mouse Works
(27 episodes running from 1999 to 2000) which was followed by
House of Mouse
which started in 2001 and is still running.
Despite being nominated for several Oscars
®
, the only Mickey Mouse cartoon to get the Academy Award
®
was
Lend a Paw
, which was really a Pluto cartoon and a remake of the cartoon
Mickey's Pal Pluto
from 1933. Mickey did get another Academy Award
®
though. Walt Disney was awarded a special Oscar
®
in 1931 for creating him. Another movie related honor to be given Mickey Mouse was a star on the Hollywood Walk of Fame. He got that on November 18, 1978, in honor of his 50th anniversary, and he was the first cartoon character to have a star on the Hollywood Walk of Fame.
In comics, Mickey started as a comic strip at King Features Syndicate on January 13, 1930. The stories were longer connected stories, which were later reprinted in
Mickey Mouse Magazine
, until the 1950s where the strip changed to one-strip gags like
Peanuts
. The strip stayed that way until 1989 when the writer at the time Floyd Norman was given almost free hands with the series. The series continued until the early 1990s when the contract with King Features Syndicate expired.
Besides the comic strip, Mickey has also had his own series on and off. It started in 1941, published by Dell, and is currently being published by Gemstone under the name
Mickey Mouse and Friends
. The current series, which started in 2003 continued where Gladstone left when they stopped the series
Mickey Mouse
in 1989.
Mickey is one of the few Disney characters to cross over into the gaming industry. Like his appearance in cartoons going back to the infancy of movies, his appearance in computer games goes back to the games infancy. The first game was
Mickey Mouse
for ZX Spectrum. The game was released in 1988 which is ancient times in regards to personal computers. Over the years, games have been released for a broad spectrum of consoles like Nintendo's Game Boy and GameCube, Genesis Sega and Windows PC.
On the more traditional side, merchandise, including board games and card games have been made since the early 1930s. Today, merchandising is a major industry and Mickey Mouse is used on almost any merchandise imaginable.
Mickey Mouse being the icon he is, someone was bound to try using him in ways not approved by Disney. The most famous of these is the Walt Disney Corporation v. The Air Pirates. Cartoonist Dan O'Neill who had had some success with his underground series
Odd Bodkins
started a group called
Air Pirates
in 1970. The group was an activist group consisting of cartoonists from the underground comics subculture with the intent to free the mouse. In 1971, O'Neill released two issues of a series called
Air Pirates Funnies
from Hell Comics. Among other things the books contained stories with Mickey and other Disney characters (more than 17 characters according to Disney) in uncharacteristic situations (i.e. mature/raunchy/unsavory situations). Walt Disney Corporation sued O'Neill for copyright infringement and despite O'Neill's claims that the series was satire Disney won. The case started in 1971 and went on until 1979 when a settlement was reached.
Related links/characters: