The Phantom Blot
---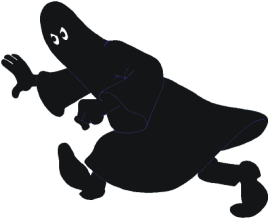 Real name:
Unknown
Eyes:
Black
Hair:
Black
Race:
Dog
Occupation:
Criminal mastermind
Identity:
Secret
Known relatives:
The Phantom Brat (daughter)
Base of operations:
Duckburg
Story:
The Phantom Blot is a criminal mastermind who makes life difficult for Mickey Mouse, Goofy, Chief O'Hara and Shamrock Bones. He is often working with other villains like the Beagle Boys, Dangerous Dan McBoo and Idgit the Midget and he is occasionally assisted by the Mysterious Mr. X. He also has a lot of run-ins with Super Goof and his sidekick Super Gilbert. The Phantom Blot always signs his jobs by leaving a piece of paper with an inkblot.
Skills & abilities:
The Phantom Blot is a skilled hypnotist and a master of disguise and escape.
Continuity:
Disney
Publisher(s):
Columbia Pictures
Disney
Dell Comics
Gold Key
Whitman Publishing
Gladstone
Gemstone
First app.:
Comics: "Mickey Mouse Outwits the Phantom Blot" (May 20, 1939)
Cartoons: "DuckTales" episode 51: "All Ducks on Deck" (Dec. 30, 1987)
Creator(s):
Floyd Gottfredson
Country of origin:
USA

Background notes:
The Phantom Blot was created by Floyd Gottfredson for the story
Mickey Mouse Outwits the Phantom Blot
from 1939. This was the only time Gottfredson used the character, but he was quite popular and was often used by other writers. The Phantom Blot even got his own comic in 1964, which is a very rare honor for any comic book villain. The series from Gold Key only lasted seven issues and is best known for the first appearance of Super Goof in issue 2.
Despite his popularity in comics, the Phantom Blot did not cross over to cartoons until
DuckTales
started in 1987. He has appeared a couple of times in the following anthology series
Mickey Mouse Works
and
House of Mouse
. His voice was done by Peter Cullen (DuckTales) and John O'Hurley (Mickey Mouse Works and House of Mouse).
The appearance of the Phantom Blot varies a little. He sometimes appears with blank eyeballs (like he originally had) or a visible mouth, but mostly he appears as seen in the picture. In the first story, the Phantom Blot was unmasked in the end, and in a few European stories he is also unmasked, but he normally always wears his mask, even in prison. Under the mask he looks a little like Walt Disney.
The Phantom Blot is one of the Disney characters, which never got transferred to other medias. A little merchandise has been made, but despite his popularity in comics he never really made it outside his original medium.
Related links/characters: