Scamp
---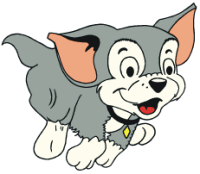 Eyes:
Black
Hair:
Gray and white fur
Race:
Dog
Marital Status:
Single
Known relatives:
Lady (mother)
Tramp (father)
Colette (sister)
Danielle (sister)
Annette (sister)



Story:
Scamp is the adventurous son of Lady and the Tramp.
Continuity:
Disney
Publisher(s):
Disney
Dell Comics
Gold Key
Whitman Publishing
First app.:
Cartoons: Lady and the Tramp (June 16, 1955)
Comics: Lady and the Tramp #1 (1955)
Creator(s):
Erdman Penner
Joe Rinaldi
Ralph Wright
Don DaGradi
Marvin Woodward
Country of origin:
USA

Background notes:
Scamp first appeared in the cartoon
Lady and the Tramp
from 1955. It was however only a cameo, just like his first appearance in comics which was the comic book adaption of the movie. His first real appearance as a character was in
Four Color Comics
#703 from 1956. Scamp's first and only 'real' appearance in a cartoon so far is
Lady and the Tramp II: Scamp's Adventure
from 2001.
Scamp appeared as a regular character in the US comics from 1955 to 1976. He appeared mostly in
Walt Disney Comics
, but for a short while he also had his own series. One of the series was a daily strip from Kings Features Syndicate, which started October 31, 1955 i.e. four months after the movie and comic book adaption. The other was a regular comic book series. The first series started with #5 in 1958, counting from his first four issues in
Four Color Comics
. The series ran until #16 in 1961. A second series running 45 issues from 1967 to 1979 was the last of Scamp's adventures in US apart from one or two stories in the early eighties. In Europe the production of comics with Scamp continued after 1979. The last record of a story with Scamp so far is 1998.
Scamp did not gain enough fame on his own to generate much merchandise, a few things like pins, small figurines and stuffed toys were made, but as a part of Lady and the Tramp merchandise he appears quite a lot.
Related links/characters: