Trusty
---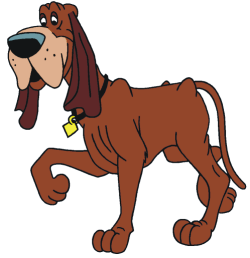 Alias:
Old Trusty
Eyes:
Black
Hair:
Brown fur
Race:
Dog, bloodhound
Story:
Old Trusty is a retired police dog who likes to tell stories about his time in the service to Scamp and his friends.
Continuity:
Disney
Publisher(s):
Disney
Dell Comics
Gold Key
Whitman Publishing
First app.:
Cartoons: Lady and the Tramp (June 16, 1955)
Comics: Four Color Comics #625 (1955)
Creator(s):
Erdman Penner
Joe Rinaldi
Ralph Wright
Don DaGradi
Marvin Woodward
Country of origin:
USA

Background notes:
Old Trusty was one of the characters introduced in Disney's cartoon
Lady and the Tramp
(voice by Bill Baucom). When Lady, Tramp and especially Scamp were transferred to comics, he was used as one of the regular characters in the Scamp stories. Trusty occurred with the rest of the characters from Scamp until 1979 after which no stories have been made. Like many other characters from the original cast he was also in the cartoon
Lady and the Tramp II - Scamp's Adventure
(voice by Jeff Bennett).
Being a character in the immensely popular
Lady and the Tramp
merchandise with Old Trusty was inevitable, though is hasn't been much. Mostly it has been figurines and pins.
Related links/characters: