Tiny the Dog
---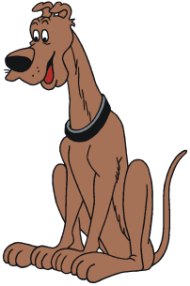 Eyes:
Black
Hair:
Brown fur
Race:
Dog, Great Dane
Story:
Tiny is Scamp's large and slightly clumsy friend.
Continuity:
Disney
Publisher(s):
Disney
Dell Comics
First app.:
Comics: August 19, 1956
Creator(s):
Ward Greene
Bob Grant
Country of origin:
USA

Background notes:
When the cast from
Lady and the Tramp
was made into comics, it was mostly the son Scamp who had the limelight. Having a new main character required an additional cast, one of which was the Great Dane Tiny the Dog. Tiny the Dog was a rather rare character in the Disney Universe, and he only occurred in the newspaper strips, mostly the Sunday strips. The character last appeared in 1975 and apparently he never transferred to other medias.
Related links/characters: