Vicente
---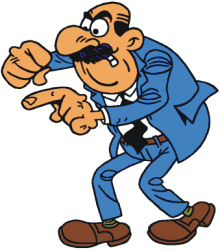 Alias:
El Súper
Eyes:
Black
Hair:
Black
Race:
Human
Occupation:
Head of T.I.A.
Legal status:
Spanish citizen
Group affiliation:
T.I.A. (Técnicos Investigación Aeroterráquea)
Story:
El Súper is the head of T.I.A. and the leader for Mortadelo and Filemón, whom he sends out on difficult missions. Having agents like Mortadelo and Filemón is aggravating work often ending in disaster.
Continuity:
Mortadelo y Filemón
Company:
Editorial Bruguera
First app.:
Comics: El Sulfato Atómico (1969)
Movies: La Gran aventura de Mortadelo y Filemón (2003)
Creator(s):
Francisco Ibáñez
Country of origin:
Spain

Background notes:
James Bond has M and U.N.C.L.E. had Mr. Alexander Waverly, so the two agents Mortadelo and Filemón needed a chief at T.I.A. (tia = aunt). Both M and Waverly were reasonable men, known for keeping their cool at all times so obviously the leader of T.I.A. had to be choleric. It could be argued though, that if he hadn't been choleric to begin with, he would soon be with the staff he's got.
When
Mortadelo y Filemón
was transferred to movies, El Súper was played by Mariano Venancio.
Names around the World:
Denmark
Vicente
Chefen
Germany
Mister L
Spain
Vicente
El Súper
Related links/characters: