Ofelia
---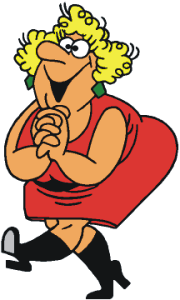 Eyes:
Black
Hair:
Blonde
Race:
Human
Occupation:
Secretary at T.I.A.
Legal status:
Spanish citizen
Group affiliation:
T.I.A. (Técnicos Investigación Aeroterráquea)
Story:
Ofelia is the temperamental, ever present secretary for the boss, El Súper, at T.I.A. Often she is the victim of Mortadelo and Filemón's accidents in the office, usually ending with Mortadelo or Filemón running for their lives.
Continuity:
Mortadelo y Filemón
Company:
Editorial Bruguera
First app.:
Movies: La Gran aventura de Mortadelo y Filemón (2003)
Creator(s):
Francisco Ibáñez
Country of origin:
Spain

Background notes:
Any agency needs a secretary. However, where James Bond has Miss Moneypenny pining for him, Mortadelo and Filemón have Ofelia hunting for them every time they do something stupid, which is quite often.
When
Mortadelo y Filemón
was transferred to movies, Ofelia was played by Berta Ojea.
Names around the World:
Denmark
Ofelia (1970s and 1980s)
Sisse (1990s to present)
Germany
Fräulein Ophelia
Spain
Ofelia
Related links/characters: