Granny Naps
---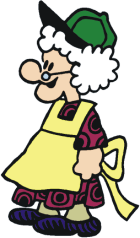 Eyes:
Black
Hair:
White
Race:
Human
Legal status:
U.S. citizen
Marital Status:
Widowed
Known relatives:
Sam Barnes (grandson)
Base of operations:
Upper Duckwater, USA
Story:
Granny Naps is one of the nice old ladies of Upper Duckwater. Sam being a bachelor, she lets him stay at her place and takes a little care of him.
Continuity:
Sam & Silo
Company:
King Features
First app.:
1977
Creator(s):
Mort Walker
Jerry Dumas

Country of origin:
USA

Background notes:
Granny Naps was a character that was used in the early series. Sam being a lazy bachelor, he needs someone to look after him, and also put him to work on occasion.
Names around the World:
| | |
| --- | --- |
| Denmark | Tante Nips |
| UK/USA | Granny Naps |
Related links/characters: