Mr. Teetering
---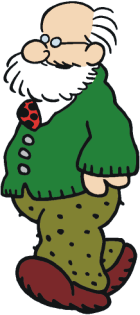 Eyes:
Black
Hair:
White
Race:
Human
Occupation:
Retired.
Legal status:
U.S. citizen
Marital Status:
Divorced
Base of operations:
Upper Duckwater, USA
Story:
Mr. Teetering is one of the senior citizens of Upper Duckwater. He is 97 years old and has been sick every day in his life, except the day his wife left him.
Continuity:
Sam & Silo
Company:
King Features
First app.:
Comics: 1977
Creator(s):
Mort Walker
Jerry Dumas
Country of origin:
USA

Background notes:
Mr. Teetering is the voice of the wise and elderly of Upper Duckwater. The name may suggest that he is in some way feeble, but he has a steady gait and a sharp wit.
Example:

Names around the World:
| | |
| --- | --- |
| Denmark | Hr. Vindhas |
| UK/USA | Mr. Teetering |
Related links/characters: