Ferd'nand's son
---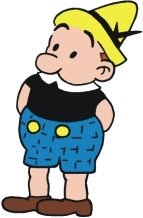 Eyes:
Black
Hair:
Reddish brown
Race:
Human
Marital Status:
Single
Known relatives:
Ferd'nand (father)
Fru. Ferd'nand (mother)



Story:
Ferd'nand Jr. is the son of Ferd'nand. He is an ordinary kid of 3-5 years, doing the playful things and tricks, that kids of that age does.
Continuity:
Ferd'nand
Publisher(s):
P.I.B.
United Feature Syndicate
First app.:
Comics: 1937
Creator(s):
Mik (Henning Dahl Mikkelsen)
Country of origin:
Denmark

Background notes:
Contrary to Alfredo's son, Ferd'nand's son is not just a scaled down version of his father. His identity as the son of Ferd'nand has never been in doubt, but like his mother he never got a name, and is only known as Ferd'nand's son. Since his introduction he has been a small kid around 3-5 years, and is likely to stay that way.
Examples (click to enlarge):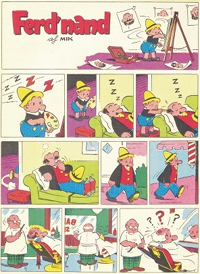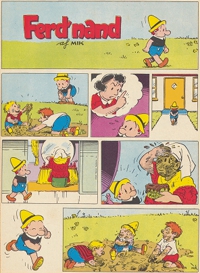 Related links/characters:
Cross cultural references:
If you enjoyed this character/series, you might enjoy