Gøjen
---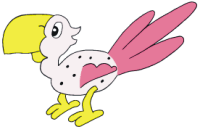 Eyes:
Black
Hair:
None, pink feathers
Race:
Parrot
Story:
Gøjen is one of Gavstrikkerne (best translated as "The Cute Rascals"). Along with Pildskadden and Frømand it is mostly doing funny things in the background on Rasmus Klump's adventures. Gøjen was hatched by Pildskadden and Frømand [1], and has stayed with Rasmus Klump and his friends since then.
Continuity:
Rasmus Klump
Publisher(s):
P.I.B.
First app.:
Rasmus Klump som dykker (1962)
Creator(s):
Carla Hansen
Vilhelm Hansen
Country of origin:
Denmark

Background notes:
Gøjen (Popsy in UK and USA) like Pildskadden and Frømand usually has no active parts in the stories. The function of Gavstrikkerne mostly resembles Storm P.'s "De tre små mænd og Nummermanden" or the pictures on the walls in George MacManus' strip "Bringing Up Father" adding small pantomime stories within the main story.
Names around the World:
| | |
| --- | --- |
| Denmark | Gøjen |
| France | Le perroquet |
| Germany | Papagei |
| Sweden | Gojan |
| UK/USA | Popsy |
Related links/characters:
References:
1: Rasmus Klump som dykker