Pildskadden
---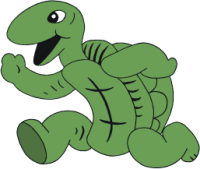 Eyes:
Black
Hair:
None
Race:
Turtle
Story:
Pildskadden is one of Gavstrikkerne (best translated as "The Cute Rascals"). Along with Gøjen and Frømand it is mostly doing funny things in the background on Rasmus Klump's adventures. Pildskadden is the only one of Gavstrikkerne who has been with Rasmus Klump on his adventures from the start.
Continuity:
Rasmus Klump
Publisher(s):
P.I.B.
First app.:
Rasmus Klump møder Ursula (1953)
Creator(s):
Carla Hansen
Vilhelm Hansen

Country of origin:
Denmark

Background notes:
Pildskadden (Shelly in UK and USA) like Gøjen and Frømand usually has no active parts in the stories. The function of Gavstrikkerne mostly resembles Storm P.'s "De tre små mænd og Nummermanden" or the pictures on the walls in George MacManus' strip "Bringing Up Father" adding small pantomime stories within the main story.
When Carla and Vilhelm Hansen were asked by PIB to create a new series, they created a turtle named Rasmus in the summer of 1951. The only restriction on the creation was the name Rasmus, hence the name. Event hough everyone liked the series, PIB believed that a main character that was small and slow was a bad idea and asked them to change the character, which they did.
Having put a lot of work into designing the turtle, Vilhelm Hansen thought the character should be used for something. On his way home from PIB he visited Toms Chokoladefabrikker, a Danish producer of chocolates. Toms Chokoladefabrikker loved the turtle and bought the rights to using the turtle for their products. The chocolate turtle was a major part of making Toms Chokoladefabrikker a success and the cream filled chocolate turtle is still produced today, more than 50 years later.
Both Carla and Vilhelm Hansen preferred the small bear Rasmus to the turtle, but they still liked the turtle very much and insisted that it became a part of the series. It became a part of the series under the name Pildskadden, a slight rewriting of the Danish word "skildpadden" meaning "the turtle".
Names around the World:
| | |
| --- | --- |
| Denmark | Pildskadden |
| Faroe Island | Skjaldbøkan |
| France | Caroline |
| Germany | Schildkröte |
| Italy | Tartalenta |
| Netherlands | Schildje |
| Portugal | Carolina |
| Sweden | Sköld |
| UK/USA | Shelly |
Related links/characters: