Carl Sorge
---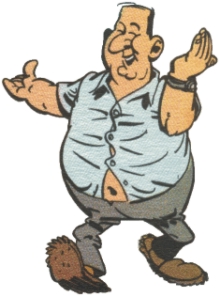 Alias:
Agent 525
Charly Sorrow



Eyes:
Black
Hair:
Black
Race:
Human
Occupation:
Secret agent for BVD, the Dutch secret service
Identity:
Secret
Group affiliation:
BVD (Binnenlandse Veiligheids Dienst)
Story:
Carl Sorge is an agent for BVD who helps Hendrik IJzerbroot on his missions. His contributions are mostly technical in nature like getting information or building a mechanical shark, but he does have assignments in the field like rescuing Agent 327.
Continuity:
Agent 327
Publisher(s):
Oberon b.v.
First app.:
Dossier Leeuwenkuil (1970)
Creator(s):
Martin Lodewijk
Country of origin:
Netherlands

Background notes:
The series Agent 327 does not have a Q like James Bond for building gadgets. The closest thing is Agent 525 who takes care of the technical matters. Carl Sorge is the type of character who mostly just shows up, does his stuff and vanishes again without any real explanation.
Names around the World:
Denmark
Carl Sorge
Charly Sorrow
Netherlands
Carl Sorge
Charly Sorrow
Related links/characters: